No palms to be distributed | No distribución de palmas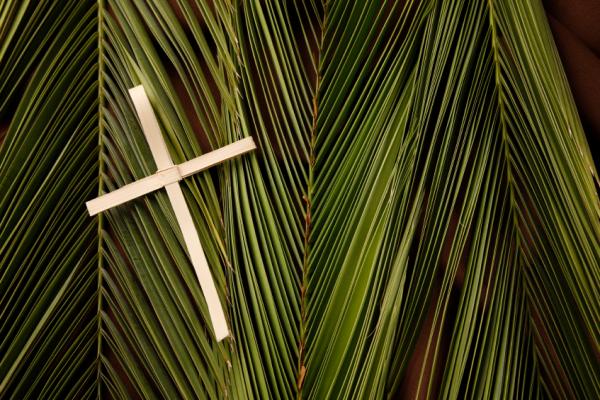 Bishop Walkowiak has weighed feedback from parishes and given further consideration to the ability of our churches to ensure safe distribution of blessed palms for Palm Sunday this year. Consistent with other liturgical restrictions and the stay-at-home order currently in place, the decision was made to suspend the distribution of palms until a date when Mass with a congregation can resume. (Most dioceses of the U.S. are also prohibiting the distribution of palms.)
If palms were distributed under current conditions, there would be little or no control over the spread of the virus, whether passing out the palms to cars driving by or by allowing people to pick them up in the church. Notably, palms should not appear to be a poor substitute for the sacrament of the Eucharist, from which we must abstain. While the sacramental of the blessed palm holds great meaning to folks, it is far more wise to refrain from their use for now.
Pray for all who suffer grief from all of their losses, great and small, Do not neglect faith, hope and love in these difficult times.
No distribución de palmas
El Obispo Walkowiak ha evaluado los comentarios recibidos de las parroquias y ha puesto gran consideración a la capacidad de nuestras iglesias, para garantizar la distribución segura de las palmas bendecidas para el Domingo de Ramos de este año. De acuerdo con otras restricciones litúrgicas, y la orden de 'permanecer en casa', actualmente en vigencia, se tomó la decisión de suspender la distribución de palmas hasta una fecha en que se pueda reanudar la Misa con una congregación. (La mayoría de las diócesis de los EE.UU. han prohibido también, la distribución de palmas).
Si las palmas se distribuyeran en las condiciones actuales, habría poco o ningún control sobre la propagación del virus, ya sea entregando las palmas a los automóviles que vayan pasando, o permitiendo que las personas las recojan en la iglesia. Cabe destacar que las palmas no deben parecer un pobre sustituto del sacramento de la Eucaristía, del cual debemos abstenernos. Si bien el sacramental de la palma bendita tiene un gran significado para la gente, es mucho más prudente abstenerse de su uso, por ahora.
Oremos por todos los que sufren por todas sus pérdidas, grandes y pequeñas. No descuide la fe, la esperanza y el amor en estos tiempos difíciles.