Year of Saint Joseph | Año de San José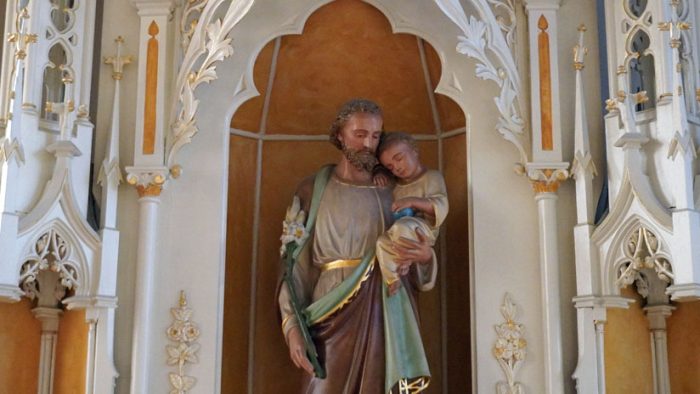 On the solemnity of the Immaculate Conception of the Blessed Virgin Mary, December 8, 2020, Pope Francis announced a year dedicated to Mary's husband Joseph, foster father to Jesus. The special 'Year of St. Joseph' will be held through Dec. 8, 2021.
The pope released an apostolic letter, Patris corde—With a Father's Heart, which commemorates the 150th anniversary of the declaration of St. Joseph as patron of the universal Church. In the letter, Pope Francis explains that the aim of this special year is "to increase our love for this great saint, to encourage us to implore his intercession and to imitate his virtues and his zeal."
Read Patris corde—With a Father's Heart on the Vatican website.
El Papa Francisco convoca a un "Año de San José"
Este 8 de diciembre de 2020 marcó el 150 aniversario de la proclamación de san José como Patrono de la Iglesia Universal. Con motivo de esta ocasión, el Papa Francisco dedicó al carpintero de Nazaret una Carta apostólica, Patris Corde (Con un corazón de padre), y proclamó los próximos doce meses como un "Año de San José".
Un padre amado, un padre en la ternura, en la obediencia y en la acogida; un padre de valentía creativa, un trabajador, siempre en la sombra: con estas palabras el Papa Francisco describe a san José de una manera tierna y conmovedora. Lo hace en la Carta apostólica Patris corde.
De hecho, fue el Beato Pío IX con el decreto Quemadmodum Deus, firmado el 8 de diciembre de 1870, quien quiso este título para san José. Para celebrar este aniversario, el Pontífice ha convocado, hasta el 8 de diciembre de 2021, un "Año" especial dedicado al padre putativo de Jesús. En el trasfondo de la Carta apostólica, está la pandemia de COVID-19 que—escribe Francisco—nos ha hecho comprender la importancia de la gente común, de aquellos que, lejos del protagonismo, ejercen la paciencia e infunden esperanza cada día, sembrando la corresponsabilidad. Como San José, "el hombre que pasa desapercibido, el hombre de la presencia diaria, discreta y oculta". Y sin embargo, el suyo es "un protagonismo sin igual en la historia de la salvación". Lea Patris Corde (Con un corazón de padre) en el sitio web del Vaticano.