Christmas Mass | Misa Navideña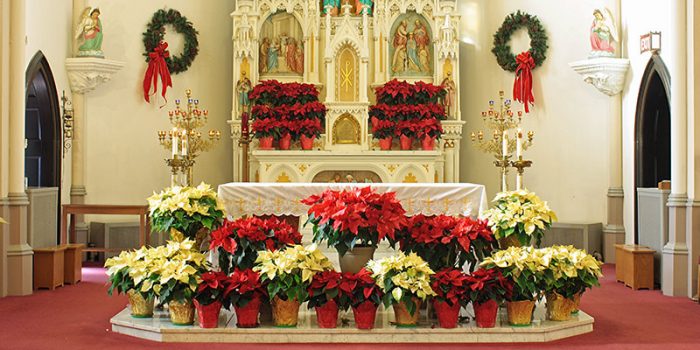 For safety reasons in this pandemic, we must limit the number of people who can attend Mass at any one time. We understand that some parishes have already filled their reservations for Christmas Masses. Although we are not using a reservation system, we wish to avoid turning people away once the church is at capacity on Christmas if possible.
To make sure we have sufficient room, if you have not been attending Mass regularly, please participate in our Christmas Mass by viewing it online at http://ow.ly/2iDt50Bhfiz (our YouTube channel) instead of attending in person.
We want you and your loved ones to be safe, and we want you to respect the safety of everyone around you:
► Wear a mask that covers your mouth and nose.
► Respect physical distancing by staying at least six feet away from anyone who is not in your household, even extended family.
We wish you a merry Christmas, and a healthy new year!
La Misa Navideña en Iglesia Santa María
Por razones de seguridad en esta pandemia, debemos limitar el número de personas que asistan a la Santa Misa. Tenemos entendido que muchas parroquias que requieren reservaciones para asistir a la Santa Misa tienen todos los sitios copados. Pese a que nosotros no requerimos reservaciones para asistir a la Santa Misa, queremos evitar tener que negar la entrada a gente que venga a la Misa Navideña.
Para asegurarnos que tenemos espacio suficiente, si usted no ha estado viniendo a Misa regularmente, por favor participe de nuestra celebración Navideña, por medio de nuestra canal de YouTube http://ow.ly/2iDt50Bhfiz en vez de asistir en persona.
Nosotros queremos que usted y toda la familia que lo rodea estén sanos, y queremos que usted también respete la seguridad de las personas a su alrededor:
► Utilice un tapaboca/mascarilla que cubra la nariz y su boca
► Manténgase a 6 pies de distancia de las personas, amigos, o familiares que no vivan en su misma casa.
¡Feliz Navidad, y una Navidad sana!