A Brief History of St. Mary Church
St. Mary Parish was established in 1857 to meet the spiritual needs of the German population in the Grand Rapids area. The original church building, erected in 1857, was replaced in 1873 by our current building, a Gothic-revival style structure designed by the eminent architect Franz G. Himpler. The cornerstone for St. Mary's was laid on May 25, 1873.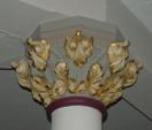 The church steeple, easily seen from US-131 and I-196, stands 200 feet tall. The building itself is made of white brick with Ionia sandstone trimmings. The interior of the church looks much like it did in the late 1800's with many of the original details left intact. Prominently featured are the pillars, capped with fleur de lis and olive leaf designs.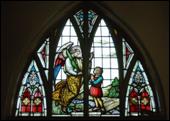 In the mid-1920's new stained glass windows were installed in the church, with additional windows in the sacristy, tower, and entry area. These windows, designed by H. Oidtmann of Germany, primarily depict scenes from Mary's life from scripture and legend. Our windows are registered in the Michigan Stained Glass Census.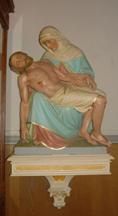 In addition to the architectural features of the building itself, St. Mary's also has on display several statues of historic interest. The Pieta, near the north rear entrance, was donated by then pastor Fr. Ehrenstrasser in 1879. On the opposite side of the church is a grotto depicting Our Lady of Lourdes. This shrine was purchased in Europe by Bishop Schrembs and donated to the church in 1902. Near the front of the church, on opposite sides, are small shrines to Our Lady of Perpetual Help and St. Rita. These shrines were installed in 1918 and 1919 respectively.
Other, smaller artifacts and various historical documents are displayed in the showcase near the back of the church. This display is changed periodically to offer parishioners and visitors a glimpse of some of the many items in our archives.
St. Mary parish has changed and grown over the years. We now serve a community of parishioners reflective of the population of the Grand Rapids area. To serve the needs of our growing Hispanic community, a Mass in Spanish is offered each Sunday at 11:30 am. We are involved in community outreach programs in collaboration with Steepletown Neighborhood Services and our local St. Vincent de Paul Conference.