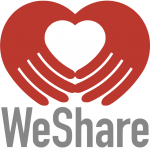 Give Online
St. Mary's has partnered with WeShare to make online giving available for our weekly offerings and other parish collections. Donating is simple, safe, and secure and take less than five minutes.
You'll be able to give to any of our collections and view complete financial records at any time. Set up a one-time or recurring donation by following these three easy steps:
To make a secure, one-time or recurring gift, use the form below or click on the Give Online link to go to wesharegiving.org/app/giving/stmarygr. (You can also click on the Giving button in the myParish app.) For enhanced security, you'll verify your identity with your cell phone number.
Select the fund/giving opportunity you would like to donate to.
Enter your payment information.
That's it. You can return at any time to edit your donation or to view your financial records.
---
Frequently Asked Questions
Q: Which payment methods are accepted?
A: Contributions from checking accounts, savings accounts, debit cards, and credit cards (Visa, MasterCard, Discover, American Express) are all accepted. You will see WeShare on your financial statements.
Members who have the new chip-based (EMV) credit cards can continue to use their cards via WeShare.
Q: Do parishioners receive receipts for their donations?
A: Yes, all contributors enrolled for online giving will receive receipts via e-mail.
Q: Is WeShare safe?
A: Yes. All sensitive financial information is stored with the highest bank level security. Your phone number will never be sold, traded, or given to third parties. You will only be texted to confirm your giving.
Q: How can I enroll and start donating?
A: Click on a Give Online link or call the parish office for more information.