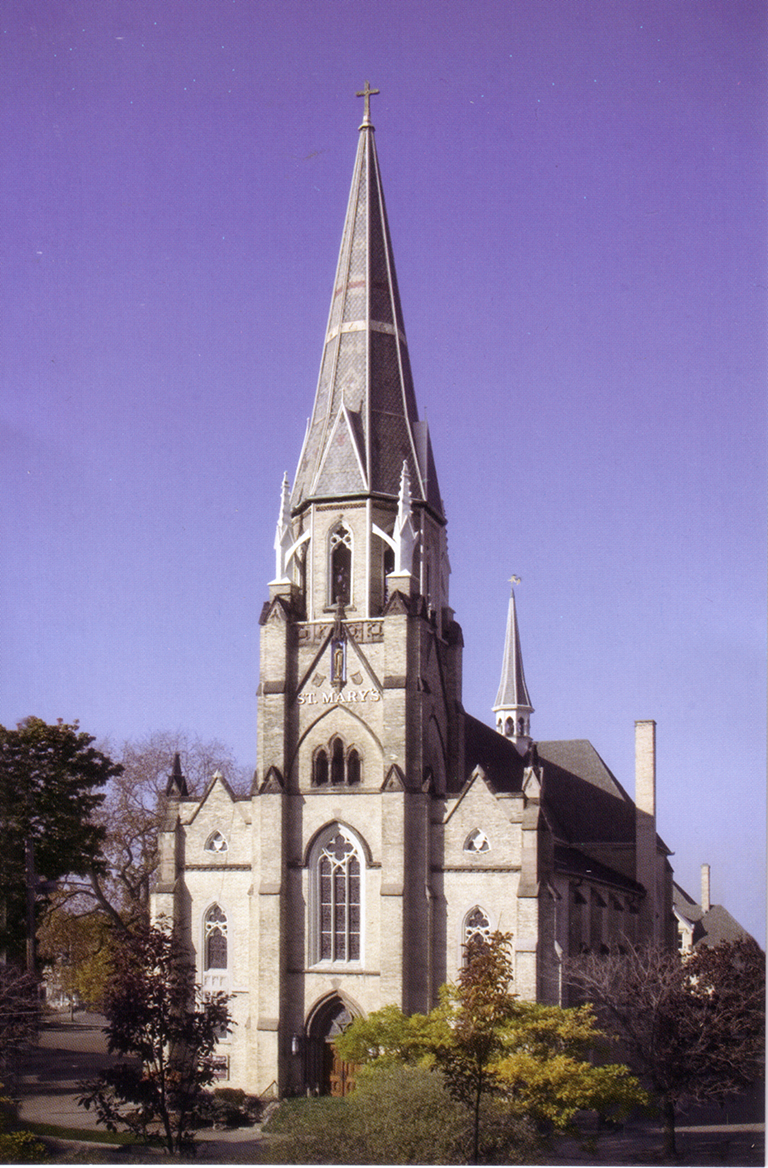 Welcome to St. Mary Catholic Church!
Come as you are to Mass, for quiet prayer or a visit to the parish offices. The St. Mary community is sometimes described by an old saying about being Catholic: "Here comes everybody". Whether you measure diversity by economics, generations, cultures or even languages, people of all walks of life are comfortable calling St. Mary's "home".
St. Mary's is a place for prayer, for celebrating, and for serving. For many, the face of St. Mary's is our landmark Gothic church building. The exquisite stained glass windows and beautiful interior create an inviting, holy space.
Welcoming, Celebrating, Serving
---
AT HOME for prayer
ALL public Masses and other liturgical and devotional prayer services are suspended until further notice throughout the Diocese of Grand Rapids. However, the Church's life of prayer continues! You are encouraged to spend extra time each day in personal prayer at home.
Our church and church offices will be closed during the governor's stay-at-home order. Staff will have access to email and voice mail from home, but may not have access to files and other resources.
Our food pantry will continue to distribute food. Our regular distribution times coming up will be:

Wednesday, April 1, 10 am–12 pm
Monday, April 6, 5–7 pm
Wednesday, April 15, 10 am–12 pm
Monday, April 20, 5–7 pm
If a person needs food assistance outside of these times, please call the parish office at 616.459.7390 x10 and leave a message. Understand that it may take us time to retrieve the message and get back to you.

The Sacrament of Reconciliation is still available at the Basilica Monday through Saturday. (See the schedule, below.)
Mass in English will continue to be livestreamed from the Cathedral of St. Andrew for those who wish to view it. It can be viewed on FOX 17, on the diocesan website (www.grdiocese.org) and Facebook page (www.facebook.c

om/DioceseofGrandRapids/

) Watch for details about the Chrism Mass and the Triduum liturgies!

Catholics are encouraged to make a spiritual Communion, pray the rosary, or meditate on Sacred Scripture to keep every day holy, most especially the Lord's Day. [Read more]

---
Parish Office Hours
Our church and church offices will be closed during the governor's stay-at-home order.
Sacrament of Reconciliation
At the nearby Basilica of St. Adalbert:
Monday through Saturday, 4:00–5:00 pm
¡Bienvenidos a la Iglesia Santa María!
Ven como estás para la Misa, para oración tranquila o a visitar las oficinas de la parroquia. A veces, la comunidad de Santa María se describe como un viejo refrán sobre los católicos: "Aquí viene todos". Si mides la diversidad por la economía, generaciones, culturas o aún idiomas, gente de todos los ámbitos de la vida son comodos con la Iglesia Santa María como "hogar".
Iglesia Santa María es un lugar para la oración, las celebraciones, y para sirviendo. Por muchos, la cara de Iglesia Santa María es nuestro edificio Gótico, un punto de referencia de la ciudad. Las exquisitas vitrales y hermoso interior crear un espacio que es acogedor y santo.
Acogedora, Celebrando, Sirviendo
---
EN CASA para la oración
La Diócesis de Grand Rapids ha decidido suspender temporalmente TODAS las Misas públicas y todos los demás servicios litúrgicos y devocionales hasta nuevo aviso. Sin embargo, ¡la vida de oración de la Iglesia debe continuar! Se le anima a orar diaria en casa .
La iglesia y las oficinas de la iglesia estarán cerradas durante el período indicado por la Gobernadora de "permanecer en casa". El personal tendrá acceso a correo electrónico (email) y mensajes telefónicos desde la casa, pero no tendrá acceso a expedientes u otros recursos.
Nuestra despensa continuará con la distribución de comida. Nuestro horario de distribución será como sigue:

miércoles, abril 1, 10am—12pm
lunes, abril 6, 5—7pm
miércoles, abril 15, 10am—12pm
lunes, abril 20, 5—7pm
Si alguna persona necesita ayuda fuera de estos horarios, por favor llame a la oficina de la iglesia: 616.459.7390 ext. 10 y deje un mensaje. Por favor tome en cuenta que puede tomar un poco de tiempo en recibir el mensaje, pero le llamaremos.

El Sacramento de Reconciliación es disponible todavía en la Basilica. (Detalles abajo.)
La Misa en español es disponible en línea: https://magnificat.tv/es/taxonomy/term/1 o https://www.ewtn.com/multimedia/schedules-es.asp…
Se anima a los católicos a hacer una Comunión espiritual, rezar el rosario o meditar en la Sagrada Escritura para santificar cada día, especialmente el Día del Señor. [Vea más]
---
Horario de oficina
La iglesia y las oficinas de la iglesia estarán cerradas durante el orden a permanecer de la gobernadora.
Reconciliación / Confesiones
En español: Por una cita.
En la Basilica of St. Adalbert, 4:00–5:00 pm, lunes a sábado.