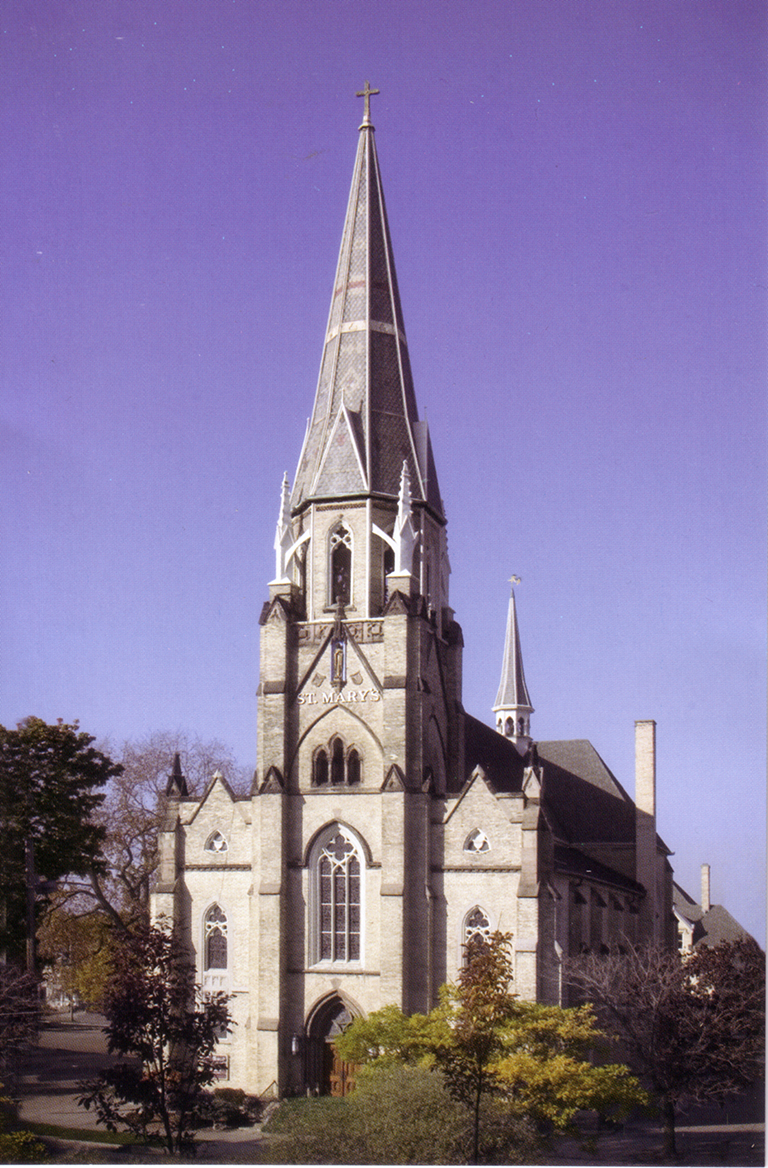 Public Masses have resumed in a limited way
St. Mary's is open for public Masses in a limited way.
• Reopening is proceeding carefully and in phases.
• To allow for appropriate physical distancing only a limited number of households will be able to be in the church at any time.
Mass times will be changing again on July 12.
• We will continue our attempts to livestream a Mass in English and one in Spanish each Sunday through our Facebook page (facebook.com/StMaryGR).
Sunday Mass in English will also continue to be livestreamed at 10:00 am from the Cathedral of St. Andrew. It can be viewed on FOX 17, on the diocesan website (www.grdiocese.org) and Facebook page (www.facebook.com/DioceseofGrandRapids/)
Catholics who cannot attend Mass are encouraged to mark Sunday as a holy day by making a spiritual Communion, praying the rosary, or meditating on Sacred Scripture. These are good practices to keep every day holy, but most especially the Lord's Day. [Read more]
Parish offices are open
Our church offices are currently open. Because most of our staff is part-time, our hours are limited. (See the schedule, below.)
Our food pantry is operating
Our food pantry continues to distribute food! Our regular distribution times coming up will be:
Wednesday, July 1, 10 am–12 pm
Monday, July 6, 5–7 pm
Wednesday, July 15, 10 am–12 pm
Monday, July 20, 5–7 pm
Monday, August 3, 5–7 pm
Wednesday, August 5, 10 am–12 pm
Monday, August 17, 5–7 pm
Wednesday, August 19, 10 am–12 pm
If a person needs food assistance outside of these times, please call the parish office at 616.459.7390 x10 and leave a message. Understand that it may take us time to retrieve the message and get back to you.
---
Parish Office Hours
Monday | Wednesday | Thursday | Friday:
8:30 am-12:00 pm
and by appointment.
Sacrament of Reconciliation
At the nearby Basilica of St. Adalbert:
Monday through Friday, 4:30–5:00 pm
and Saturday 3:00–3:30 pm
Reanudamos Misas públicas
La Iglesia de Santa María está abierta de manera limitada para las Misas del domingo.
• La reapertura está con cuidado y en fases.
• Para permitir distanciamiento físico, solo un número limitado de hogares podrán estar en la iglesia en cualquier momento.
El horario de las Misas cambiará el 12 de julio.
• Vamos a continuar a poner una Misa en español y una en inglés en línea cada domingo a través Facebook (facebook.com/StMaryGR).
La Misa dominical en español es disponible en línea: https://magnificat.tv/es/taxonomy/term/1 o https://www.ewtn.com/multimedia/schedules-es.asp…
Se anima a los católicos que no pueden asistir en la Misa a hacer una Comunión espiritual, rezar el rosario o meditar en la Sagrada Escritura para santificar cada día, especialmente el Día del Señor. [Vea más]
Las oficinas de la iglesia estarán abiertas
Las oficinas de la iglesia estarán abiertas. Las horas están disponible a continuación.
La despensa de comida está abierta
¡Nuestra despensa continuará con la distribución de comida! Nuestro horario de distribución será como sigue:
miércoles, julio 1, 10am–12pm
lunes, julio 6, 5–7pm
miércoles, julio 15, 10am–12pm
lunes, julio 20, 5–7pm
lunes, agosto 3, 5–7pm
miércoles, agosto 7, 10am–12pm
lunes, agosto 17, 5–7pm
miércoles, agosto 19, 10am–12pm
Si alguna persona necesita ayuda fuera de estos horarios, por favor llame a la oficina de la iglesia: 616.459.7390 ext. 10 y deje un mensaje. Por favor tome en cuenta que puede tomar un poco de tiempo en recibir el mensaje, pero le llamaremos.
---
Horario de oficina
lunes | miércoles | jueves | viernes:
8:30 am – 12:00 pm
(y por una cita)
Reconciliación / Confesiones
En español: Por una cita.
En la Basilica of St. Adalbert, 4:00–5:00 pm, lunes a viernes
y sábado 3:00–3:30 pm