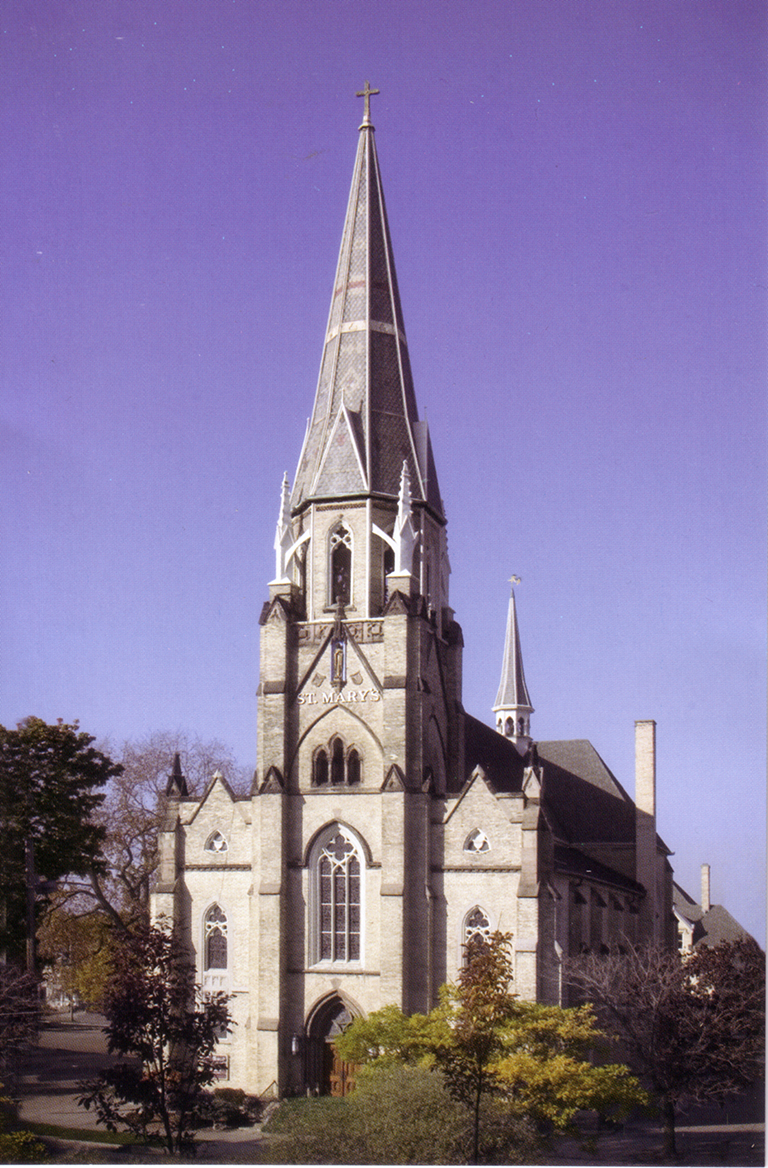 Bishop Walkowiak invites Catholics who are able and healthy to return to Mass.
The dispensation is now only for those who are unable to attend in person because of health reasons.
Read more at: COVID-19 Updates
Our liturgies are broadcast online
To allow for appropriate physical distancing, only a limited number of people can be in the church at any one time. Masks covering the mouth and nose are required for all people but the youngest children.
We continue to livestream our liturgies in English and in Spanish for those who are unable to participate in-person because of health reasons or other factors. The church has a very limited seating capacity because of the pandemic, but we hope you can at least join us online! WATCH ONLINE
Our food pantry
Our regular distribution times coming up will be:
Monday, April 19, 5–7 pm
Wednesday, April 21, 10 am–12 pm
Monday, May 3, 5–7 pm
Wednesday, May 5, 10 am–12 pm
Monday, May 17, 5–7 pm
Wednesday, May 19, 10 am–12 pm
If a person needs food assistance outside of these times, please call the parish office at 616.459.7390 x10 and leave a message. Understand that it may take us time to retrieve the message and get back to you.
The St. Mary Food Pantry is an equal opportunity provider.
---
Parish Office Hours
Monday | Wednesday | Thursday | Friday:
8:30 am-12:00 pm
and by appointment.
Sacrament of Reconciliation
At the nearby Basilica of St. Adalbert:
Monday through Friday, 4:30–5:00 pm
and Saturday 3:00–3:30 pm
El Obispo Walkowiak invita los católicos que están sanos y capaces a volver a la Misa.
Para los que no puedan a asistir en persona por motivos de salud, la dispensa ha sido extendida hasta nuevo aviso.
Lea más: Actualizaciones del COVID-19
Nuestras liturgias se transmiten en línea
Para permitir distanciamiento físico, solo un número limitado de personas podrán estar en la iglesia en cualquier momento. Cubrebocas/mascarillas (cubriendo su boca y nariz) son obligatorios para todas las personas excepto a los niñitos más pequeños.
Continuamos a poner las liturgias en vivo en español y en inglés en línea cada semana para los que no pueden asistir a la liturgia en persona por motivos de salud u otros factores. No tenemos espacio para mucha gente porque de la pandemia, pero esperamos que, por lo menos, puede ver el video en vivo en línea. VER EN LÍNEA
La despensa de alimentos
Nuestro horario de distribución será como sigue:
miércoles, el 16 de junio, 10am–12pm
lunes, el 21 de junio, 5–7pm
lunes, el 5 de julio, 5–7pm
miércoles, el 7 de julio, 10am–12pm
lunes, el 19 de julio, 5–7pm
miércoles, el 21 de julio, 10am–12pm
Si alguna persona necesita ayuda fuera de estos horarios, por favor llame a la oficina de la iglesia: 616.459.7390 ext. 10 y deje un mensaje. Por favor tome en cuenta que puede tomar un poco de tiempo en recibir el mensaje, pero le llamaremos.
La despensa de comida de Iglesia Santa María es un proveedor que ofrece igualdad de oportunidades.
---
Horario de oficina
lunes | miércoles | jueves | viernes:
8:30 am – 12:00 pm
(y por una cita)
Reconciliación / Confesiones
En español: Por una cita.
En la Basilica of St. Adalbert, 4:00–5:00 pm, lunes a viernes
y sábado 3:00–3:30 pm