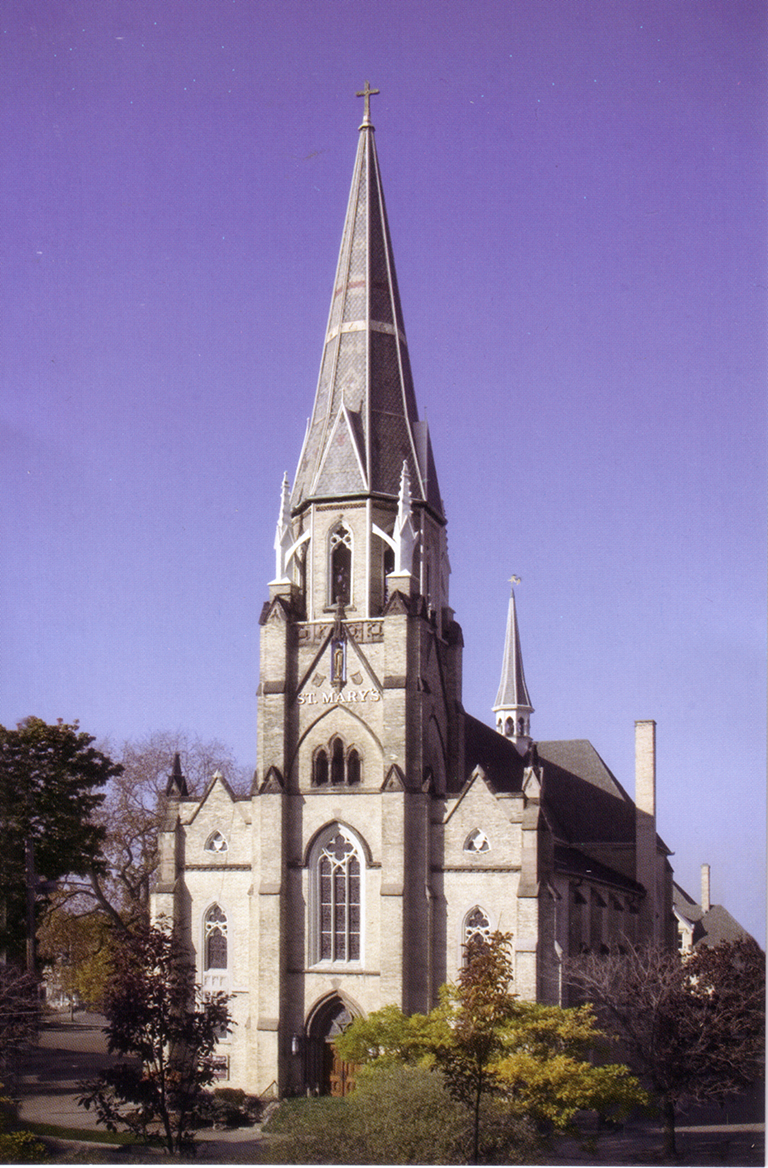 Welcome to St. Mary Catholic Church!
Come as you are to Mass, for quiet prayer or a visit to the parish offices. The St. Mary community is sometimes described by an old saying about being Catholic: "Here comes everybody". Whether you measure diversity by economics, generations, cultures or even languages, people of all walks of life are comfortable calling St. Mary's "home".
St. Mary's is a place for prayer, for celebrating, and for serving. For many, the face of St. Mary's is our landmark Gothic church building. The exquisite stained glass windows and beautiful interior create an inviting, holy space.
Welcoming, Celebrating, Serving
---
A new web site!
As we grow into our new, re-imagined web site, we may not have gotten everything smoothed out yet. Thanks for your patience. Please feel free to let us know of any issues you experience while visiting our site so that we can follow up and iron out the bugs.
---
an ecumenical, community prayer event
7:00 pm at St. Mary's on the second Monday of each month.
---
Weekly Mass Schedule
Sunday:
9:30 am (English)
11:30 am (Spanish)
Parish Office Hours
Monday | Wednesday | Thursday | Friday: 8:30 am-12:00 pm and by appointment.
Personal Prayer
St. Mary's is open for personal prayer Monday | Wednesday | Thursday | Friday:
8:30 am – 12:00 pm, and on Saturday beginning at 3:30 pm.
Sacrament of Reconciliation
By appointment.
¡Bienvenidos a la Iglesia Santa María!
Ven como estás para la Misa, para oración tranquila o a visitar las oficinas de la parroquia. A veces, la comunidad de Santa María se describe como un viejo refrán sobre los católicos: "Aquí viene todos". Si mides la diversidad por la economía, generaciones, culturas o aún idiomas, gente de todos los ámbitos de la vida son comodos con la Iglesia Santa María como "hogar".
Iglesia Santa María es un lugar para la oración, las celebraciones, y para sirviendo. Por muchos, la cara de Iglesia Santa María es nuestro edificio Gótico, un punto de referencia de la ciudad. Las exquisitas vitrales y hermoso interior crear un espacio que es acogedor y santo.
Acogedora, Celebrando, Sirviendo
---
¡Nuestro sitio nuevo del web!
Tenemos un nuevo sitio web, y es posible que hay complicaciones a dentro. Gracias por su paciencia. Si observa cualquieres dificultades aquí, diganos para que podemos a corregir los problemas.
---
un servicio ecuménico de la comunidad
7:00 pm en Iglesia Santa María, el segundo lunes de cada mes.
---
Horario de misas
domingo:
9:30 am (inglés)
11:30 am (español)
Horario de oficina
lunes | miércoles | jueves | viernes: 8:30 am – 12:00 pm (y por una cita).
Oración personal
Iglesia Santa María está abierta para oración personal:
lunes | miércoles | jueves | viernes: 8:30 am – 12:00 pm, y los sábados comenzando a las 3:30 pm
Reconciliación / Confesiones
Por una cita.