Mass Times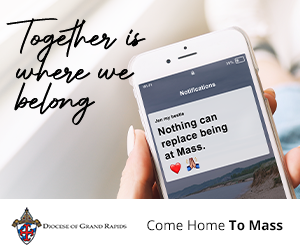 This past couple of years have been hard on everyone. But, if there's a bright spot, it's that we've all had time to think about what matters: the people in our lives, the celebrations, the sense of connection.
If you're ready to be welcomed back, to be safe, to be fed, to be home… we're here with open arms. Come home to Mass. You are missed more than you know.
Sunday Mass times are:
9:00 am Mass in English
11:00 am Mass in Spanish
We continue to livestream our liturgies in English and in Spanish for those who are unable to participate in-person because of health reasons or other factors. Watch for reminders posted each week to the MyParish app, on our Facebook page (facebook.com/StMaryGR), and Twitter (@stmarygr_mi).
Videos of our liturgies on our YouTube channel (youtube.com/@StMaryCatholicChurchGR), both live and available afterward. (Please subscribe to our parish YouTube channel so you can easily return.)
Daily Masses
Daily Masses are celebrated at the Basilica of St. Adalbert.
Parish Office Hours
Our church office hours are limited because most of our staff work only part-time:
Monday | Wednesday | Thursday | Friday:
8:30 am-12:00 pm
and by appointment.
Sacrament of Reconciliation
At the nearby Basilica of St. Adalbert:
Monday through Friday, 4:00–5:00 pm
Saturday 3:00–3:30 pm
Horas de las Misas
Las horas de las Misas del domingo:
9:00 am, Misa en inglés
11:00 am, Misa en español
Continuamos a poner las liturgias en vivo en español y en inglés en línea cada semana para los que no pueden asistir a la liturgia en persona por motivos de salud u otros factores. Vigile los recordatorios cada semana en la apli myParish, en nuestra página de Facebook (facebook.com/StMaryGR), y Twitter (@stmarygr_mi).
Vídeos de nuestras liturgias en nuestro canal parroquial de YouTube (youtube.com/@StMaryCatholicChurchGR) a ver las liturgias, tanto en vivo como disponibles después del tiempo de la liturgia. Por favor, suscríbase a nuestro canal de YouTube también.


Se anima a los católicos que no pueden asistir en la Misa a hacer una Comunión espiritual, rezar el rosario o meditar en la Sagrada Escritura para santificar cada día, especialmente el Día del Señor. [Vea más]
Misas diarias
Hay Misas diarias en inglés en Basilica of Saint Adalbert.
Horario de oficina
Las oficinas de la iglesia estarán abiertas: lunes | miércoles | jueves | viernes: 8:30 am – 12:00 pm (y por una cita)
Reconciliación / Confesiones
En español: Por una cita.
En la Basilica of St. Adalbert: lunes–viernes 4:00–5:00 pm
Sábado 3:00–3:30 pm