War Time Honor Rolls
Two posters are framed near the entrance of St. Mary's, on which are inscribed the names of servicemen and women who served during World War I and World War II.
Silver stars (

) appear next to some of the names on the WW I poster; Gold stars (

) appear on the WW II poster. Traditionally, gold stars indicate servicemen who were killed; it is uncertain if the silver stars on the WW I poster were intended to indicate those wounded or those killed.
It is possible that some names of parishioners serving in the military at that time may have been overlooked. Likewise, the accuracy of the stars applied to the names is uncertain.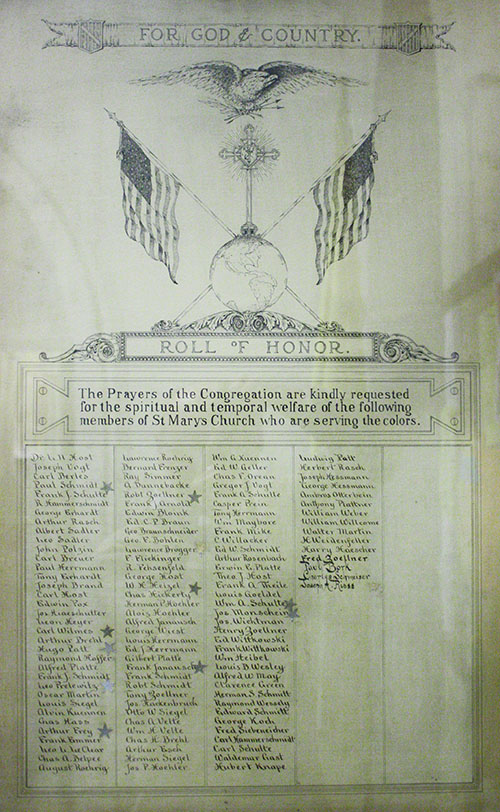 (Clicking on the image will bring up a higher-quality photo you can zoom in to.)
This WWI Roll of Honor poster was a Knights of Columbus design.
Column 1
Dr. L. H. Host
Joseph Vogt
Carl Berles
Paul Schmidt
Frank J. Schulte
R. Hammerschmidt
George Erhardt
Arthur Rasch
Albert Sadler
Leo Sadler
John Polzin
Carl Breuer
Paul Herrmann
Tony Erhardt
Joseph Brand
Carl Host
Edwin Fox
Joseph Hiaeschutter
Leon Heyer
Carl Wilmes
Arthur Brehl
Hugo Patt
Raymond Hoffer
Alfred Platte
Frank. J. Schmidt
Leo Prelewitz
Oscar Martin
Louis Siegel
Alvin Kuennen
Chas Hass
Arthur Frey
Frank Emmer
Leo L. LeClear
Chas A. Belpee
August Roehrig
Column 2
Lawrence Roehrig
Bernard Frenzer
Ray Simmer
A. Dunnebacke
Robert Zoellner
Frank J. Arnold
Edwin Bloink
Ed. C. P. Braun
George Graunschneider
George F. Bohlen
Lawrence Brogger
F. Flickinger
R. Fehsenfeld
George Host
W. H. Helzel
Chas Hickerty
Herman P. Hoehler
Alois Hoehler
Alfred Janausch
George Wiest
Louis Herrmann
Ed. J. Herrmann
Gilbert Platte
Frank Janausch
Frank Schmidt
Robert Schmidt
Tony Zoellner
Joseph Hackenbruch
Otto W. Siegel
Chas A. Velte
William H. Velte
Chas H. Brehl
Arthur Esch
Herman Siegel
Joseph P. Hoehler
Column 3
William G. Kuennen
Ed. W. Geller
Chas F. Orean
Gregor J. Vogt
Frank A. Schulte
Casper Prein
Tony Herrmann
William Maybore
Frank Mike
C. Willaker
Ed W. Schmidt
Arthur Rosenbach
Erwin E. Platte
Theo. J. Host
Frank A. Thiele
Louis Goeldel
William A. Schulte
Joseph Monschein
Joseph Wichtman
Henry Zoellner
Ed Wittkowski
Frank Wittkowski
William Heibel
Louis B. Wesley
Alfred W. May
Clarence Green
Herman S. Schmitt
Raymond Wessely
Edward Schmitt
George Koch
Fred Siebeneicher
Carl Hammerschmidt
Carl Schulte
Waldemar Gast
Hubert Knape
Column 4
Ludwig Patt
Herbert Rasch
Joseph Hessmann
George Hessmann
Ambros Otterbein
Anthony Plattner
William Weber
William Willcome
Walter Martin
H. Weidenfeller
Harry Haescher
Fred Zoellner
Paul Bork
Charles Schmeiser
Joseph A. Riess
---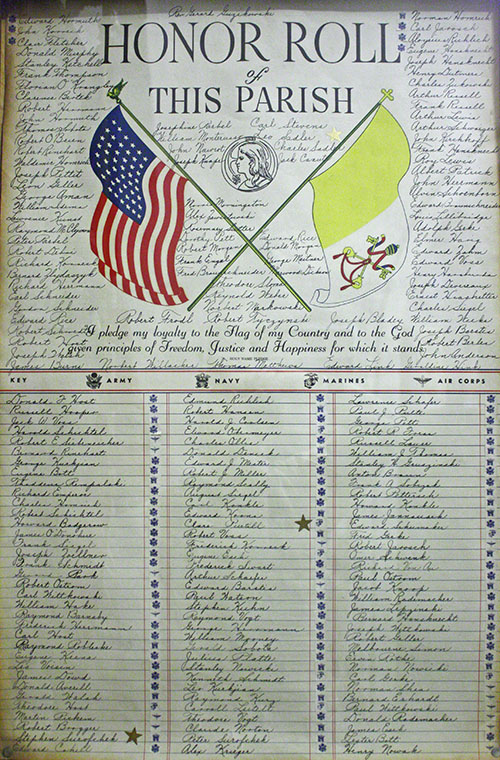 (Clicking on the image will bring up a higher-quality photo you can zoom in to.)
This WWII Honor Roll poster was a design of the Holy Name Society.
The Holy Name Pledge on the Honor Roll is a fragment of the full pledge.
Left Column (bottom)
Donald F. Host
Russell Hooper
Jack W. Voss
Harold Schichtel
Robert E. Siebeneicher
Bernard Rinehart
George Kurkjian
Eugene Bott
Thaddeus Rempalski
Richard Emperor
Charles Homrich
Robert Schichtel
Howard Badgerow
James O'Donohue
Frank Siegel
Joseph Zoellner
Frank Schmidt
Gerard Park
Robert Ostrom
Carl Wittkowski
William Hake
Raymond Barnaby
Frederick Herrmann
Carl Host
Raymond Robleski
Eugene Keena
Leo Voisin
James Dowd
Donald Averill
Gerald Walsh
Theodore Hose
Martin Rickem
Robert Brogger
Stephen Surofchek
Edward Cohill
Center Column (bottom)
Edmund Richlich
Robert Hansen
Harold J. Coolsen
Elwood Obermeyer
Charles Ollis
Donald Dencek
Edward J. Mester
Robert J. Miller
Raymond Scally
August Siegel
Carl Konkle
Edward Koons
Clare Purtill
Robert Voss
Frederick Korreck
Eugene Esch
Frederick Swart
Arthur Schaefer
Edward Barstis
Paul Watson
Stephen Kuhn
Raymon Vogt
George Herrmann
William Mooney
Gerald Sobota
Julius Platte
Stanley Nowicki
Kenneth Schmidt
Leo Kurkjian
Raymond Kurz
Carroll Leitelt
Theodore Vogt
Claude Norton
Peter Surofchek
Alex Krieger
Right Column (bottom)
Lawrence Schafer
Paul J. Pulte
George Patt
Robert R. Freas
Russell Lauer
William J. Thomas
Stanley H. Gruszinski
Anton Braun
Frank A. Sobczak
Robert Pettersch
Howard Konkle
James Jannausch
Edward Schumaker
Fred Gerke
Robert Jarosch
Omer Schwenk
Richard Von Au
Paul Ostrom
Jacob Knoop
William Rademacher
James Lepzinski
Bernard Hansknecht
Joseph Wittkowski
Robert Geller
Melbourne Simon
Ervin Rothe
Norman Nowicki
Carl Gerke
Norman Shea
Bernard Erhardt
Paul Wittkowski
Donald Rademacher
James Esch
Lester Bott
Henry Nowak
Additional names were added to the top of the poster when they ran out of room!
Left Side (top)
Edward Hormuth
John Korreck
Clair Fletcher
Donald Murphy
Stanley Ketchell
Frank Thompson
Florian O'Krangley
Clarence Bertek
Robert Herrmann
John Hormuth
Thomas Sobota
Robert O'Brien
Robert Rinehart
Waldemir Homrich
Joseph Pettit
Leon Geller
George Aman
William Idema
Lawrence Kunst
Raymond McClymon
Peter Parbel
Robert Debri
Richard Korreck
Bernard Zlydaszyk
Richard herrmann
Earl Schneider
Gordon Schneider
Edward Rice
Robert Schroedtir
Robert Host
Joseph Walsh
James Burns
Center (top)
Rev. Gerard Guzikowski
Josephine Parbel
William Monterusso
John Nawrot
Joseph Knape
Carl Stevens
Leo Sadler
Charles Sadler
Jack Canute
Morris Morningston
Alex Zawistowski
Rosemary Sutter
Dorothy Pett
Robert Morgan
Frank Engel
Fred Braunschneider
Edward Rice
Donald Morgan
George Maitner
Marwood Dickson
Theodore Sloma
Reynold Weber
Norbert Markowski
Robert Frodl
Robert Tyczynski
Joseph Bladey
Norbert Willacker
Thomas Matthews
Edward Link
Right Side (top)
Norman Homrich
Carl Jarosch
Aloysius Richlich
Eugene Hansknecht
Joseph Hansknecht
Henry Dutmers
Charles Zukowski
Arthur Ressell
Frank Ressell
Arthur Lewis
Arthur Schwaiger
John Kirchhoff
Frank Hansknecht
Roy Lewis
Albert Patrick
John Herrmann
Alvin Schoenborn
Edward Braunschneider
Louis Lillibridge
Adolph Gerke
Elmer Harig
Edward Zahm
Edward Voss
Henry Haraburda
Joseph Devereaux
Ernest Hiashetter
Chales Siegel
William Weeks
Joseph Barstis
Robert Berles
John Anderson
Geraldine Hink